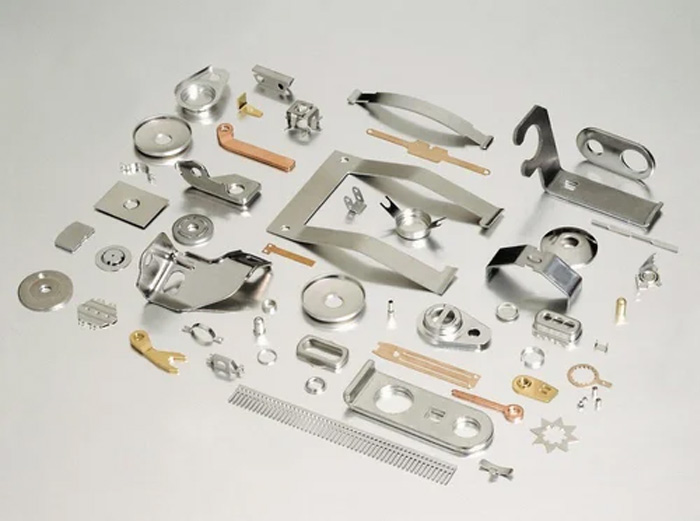 Ambani Metals is a leading manufacturer, supplier and exporter of a wide range of precision sheet metal components and parts.
These precision sheet metal stamping parts are used in cars, aeroplanes, industrial engineering, electrical and electronics, defence systems etc. Ambani Metals is equipped with the latest machinery, manufacturing unit, technology and an experienced team of precision sheet metal stamping professionals to offer good results.
What is Metal Stamping?
Metal stamping is a manufacturing process of converting flat metal sheets into specific shapes. This process of stamping (it is also known as pressing) is a complex process that is done by placing a flat sheet of metal into a stamping press to transform the flat metal sheet into a desired shape. This process can include several metal stamping techniques like blanking, punching, bending, piercing, coining, flanging and embossing.
Benefits of Metal Stamping & Pressing
Cost Effective- Flexibility is unquestionably what makes metal stamping highly popular in various industries. It allows for metal to be shaped in tiny sizes and complex forms as per the requirement. During the process of pressing, however, specifications can be adhered to without any trouble. Metal stamping is cost-effective when sheet metal parts are manufactured in high volumes and large quantities. Metal pressing is the right solution to produce precision machine parts in bulk at a low cost of production.
High Quality - Metal stamping is a method known for the manufacturing of high-quality machine components. Sheet metal stamped parts have proven to be so reliable that they have been used in complex operations also in various industries. Flexibility is unquestionably what makes metal stamping highly popular in numerous industries.
Remarkable Accuracy - Probably the greatest advantage of metal stamping is the level of precision, which reaches a micron level. The sophistication and detailed nature of this process enables manufacturers to shape metal in the most complex forms with the help of innovative technology. The possibility for error is virtually minimal because of the use of sensors and camera systems, which inspect the dimension in the course of the process.
We can manufacture precision metal parts and components with a capacity from 5 tons to 300 tons in our in-house state-of-the-art production facility. We use high-quality metals including Stainless Steel, Brass, Copper, Alloy Steel and Aluminium to produce precision metal parts.
Different Stamping Methods
Choosing Metals for Metal Stamping
Though there are thousands of metals that can be stamped, there are two general categories - ferrous and nonferrous where ferrous metals have iron and nonferrous do not. Nonferrous metals that are commonly stamped are aluminium, brass, bronze, gold, silver, tin, and copper. One of the factors that determine the formability of a metal is its carbon content, though carbon is only one of many factors.
Alloys, a compound of two or more metals, are commonly used in metal stamping. Each alloyed metal has special characteristics that have to be considered when being used for metal stamping. For example, non-standard alloys, such as beryllium nickel and beryllium copper, are excellent for metal working, forming, and shaping musical instruments and bullets.
A wide range of raw materials used for the sheet metal part stamping process :
Stainless Steel
Cold Rolled Steel
Hot Rolled Steel
Aluminium
Brass
Beryllium Copper
Titanium
Various manufacturing methods on sheet metals can be classified as follows:
Cutting and Shearing- Here the sheets are cut by using various tools. Blanking, piercing, perforation, notching etc. are various types of shearing operations.
Bending Operation- The sheet metals are straining around a straight axis.
Forming- Flanging and tube forming are forming operations to give shape.
Drawing Operations- Cupping, drawing, and deep drawing are all drawing operations in which sheet metals are given cup or shell-type shapes.
Reducing Operations- Necking type of operations.
Squeezing- For example coining operation is done in closed dies applying large force.
Manufacturer, Exporter of precision sheet metal stamping parts in India