Stainless Steel SS Angles, SS 304 Angles, SS 304L Angles and SS 316 Angles / 316L alloys Angles, Stockists, Suppliers in Mumbai, India.
Ambani Metals is one of the leading manufacturers of stainless steel angle bar. We offer an excellent quality of stainless angle bar in 304 / 304L and 316 / 316L alloys grades. Stainless steel angle is also called stainless steel channel in the market.
Ambani Metals is prominent Stainless Steel Angle Suppliers in India. We manufacture 316 Stainless Steel Unequal Angle, 304 Stainless Steel Angles & Stainless Steel Right Angle Brackets at Best Possible Price in India and source of high quality Stainless Steel L Angle at best price available in Mumbai, India.
Ambani Metals manufactures stainless even leg angles in 304/304L and 316/316L. Larger even leg stainless angles & SS Angle can be manufactured utilizing laser fusion technology. Stainless Steel Angles, both Unequal and Equal are being exported in a wide range of sizes from the smaller more standard hot produced stainless steel grades to the bigger progressively and bespoke Laser Fusion Welded product. We also supply most of the standard Stainless Steel Grade such as 304 / 304L and 316 / 316L alloys. Laser combined technology also enables engineers and metal purchasers to mix thickness or even material grades.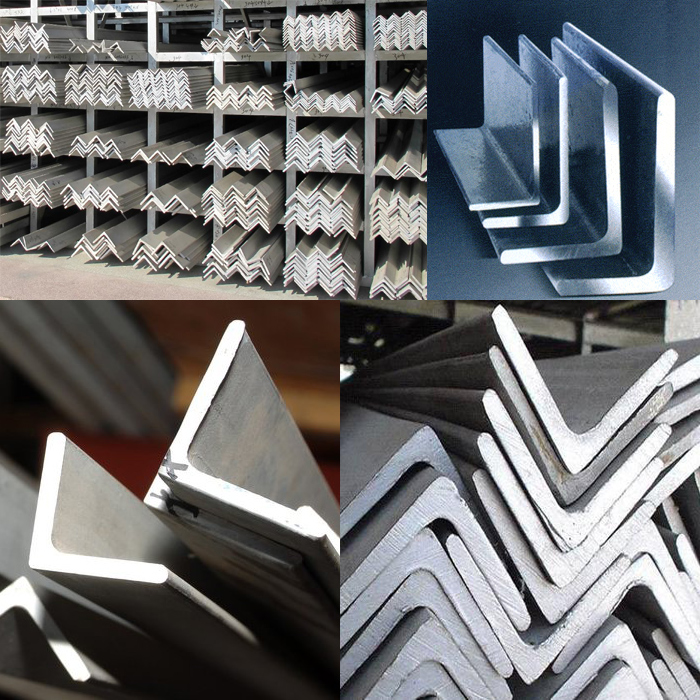 If you are looking to buy Stainless Steel Unequal Angle at best price in India, check our price of Ss Angle including Stainless Steel Right Angle Brackets, 304 Stainless Steel Angles and Stainless Steel Equal Angle. Ambani Metals is supplying Stainless Steel L Angle to Indonesia, Singapore, Bahrain, Sweden, Sri Lanka, Italy, Turkey, Kuwait, France, UAE, Israel, USA, Iran, Germany, Australia, Canada, Egypt, Oman, Qatar, Thailand, Malaysia, UK, Russia & Saudi Arabia
We can supply 316 Stainless Steel Angle at best price as we are one of the largest Manufacturer and suppliers of Unequal Stainless Steel Angle in India.
We offer Stainless Steel Angles that are available in different sizes and dimensions in accordance to international market standards. We offer Stainless Steel Angles according to the requirements of the clients.
Stainless steel angle is a hot rolled angle shape available with either equal or unequal leg length. Inside radius corner add strength to the shape. Stainless angle is well suited for structural applications that require strength and excellent corrosion resistance. Stainless steel angle also has a dull gray, mill finish and is used in all types of fabrication projects exposed to corrosive environments, such as acidic, chemical, fresh and salt water environments.
Ambani Metal offers stainless steel angle in 304 / 304L and 316 / 316L alloys.
Excellent finish
High strength
Good oxidation
Temperature resistance
Smooth surface
Good formability
Corrosion resistance
Stainless Steel Architectural Angles
316 Stainless Steel Equal Angle
Stainless Steel Unequal Leg Angle
ASTM A276 Stainless Steel Angle
SS C Channel
Stainless Steel U Channel
Stainless Steel Equal Leg Angles
Stainless Steel Galvanized angle
Stainless Steel Hot Rolled Angle
SS 304 Unequal Angle Suppliers
Stainless Steel Structural Angle
Stainless Steel Cold Drawn Angle
Stainless Steel Corner Angle
Stainless Steel Marble Angle
Stainless Steel Galvanized Coated angle
Stainless Steel Slotted Angle
Stainless Steel perforated angle
Stainless Steel L Shape Angle
Stainless Steel Punched Holes Angles
Stainless Steel Cold rolled galvanized Angles
Construction
Structural Support
Aerospace
Architectural
Construction
Chemical
Food Processing
Oil & Gas
Stainless Steel SS Channels

Ambani Metals is a prominent manufacturer, supplier, and exporter of Stainless Steel Channels Bar using high-quality raw materials with the help of professionals as per national and international quality standards. Ambani Metals is a reputed distributors, manufacturers and suppliers of stainless steel U channel and stainless steel C channels in 304 / 304L and 316 / 316L alloys in all standard sizes and finishes. Stainless steel channels supplied by Ambani Metals are certified to highest level of industry standards, and are accompanied by Mill Test Certificates. We can supply cut to size stainless steel channels, with both small and big widths. Our stock of stainless steel channels includes thickness range from 2mm up to 6, with Ultrasonic Test Reports, Chemical Test Reports, as well as Mechanical Test Reports. Our stainless steel 304 Channels are characterized by high durability, resistance to corrosion, flawless finish and complete reliability. We manufacture and supply both hot rolled and cold rolled stainless steel channels.
Our Stainless Steel 316 Channels offer good corrosion resistance to many chemical corrodents as well as industrial atmospheres and hence are used in various industries like Oil & gas, Petrochemical, Pharmaceutical, Fertilizers, Construction, Food, Power and Instrumentation. Our complete range is stringently tested by our well-equipped testing unit, to ensure their compliance with global quality norms. We supply a varied range of premium quality Stainless Steel 310 Channels, in both form (C Channels & u Channels) which are commonly used in public and domestic construction projects, Petroleum, chemical and electricity industries, Food processing and medical industry. We supply both hot and cold rolled stainless steel flat channels. Our channels are available in different shapes, dimensions that fulfill the requirement of our global clients. We also supply our clients with custom made products as per their specific requirements. These wide ranges of products can be availed from us at competitive prices.
We pack our Stainless Steel Channel carefully, wrapped with anti-rust paper in wooden pallets to prevent damage during transit. Identification labels are tagged according to standard specification or customer's instructions. Special packing is available as per customer's requirement.
At Ambani Metals, we inventory stainless steel channels in 304 / 304L and 316 / 316L alloys in a variety of sizes to meet the requirements of your application. Stainless steel channel is shaped using a vertical web with top and bottom flanges at a 90 degree angle to the web and inside radius corners to increase the channel's strength. It can be extruded, hot rolled or laser-fused.
Stainless channels have a dull gray, mill finish. It is used for applications that require the high strength, toughness, corrosion-resistance and easy sanitizing properties of stainless steel. These include raceways, supports, braces and frames for machinery, equipment and housings in corrosive environments.
Excellent finish
High strength
Good oxidation
Temperature resistance
Smooth surface
Good formability
Corrosion resistance
Stainless Steel Channel Bars
SS Channel Bars
Alloy Steel channel bars
Carbon steel channel bars
Inconel channel bars
Duplex steel channel bars
CS channel bars
Hastelloy channel bars
Copper channel bars
Alloy 20 channel bars
Titanium channel bars
Aluminium channel bars
Super duplex channel bars
AS channel bars
Monel channel bars
Mild steel channel bars
Chemical Industry
Oil & Gas Industry
Petrochemical Industry
Power Genration Industry
Sugar Industry
Food Processing Industry
Paper & Pulp Industry
Offshore and Onshore Services
Apart from Stainless Steel Angles & Channels we also specialize in supplying Stainless Steel Flanges, Alloy Steel Coil, Sheet, Plates & Strips, Bubble Caps & Distillation Column & Trays.
Send us your enquiry today so that we can supply you our best stainless steel products as per your requirements.
If you're looking for a trusted and reliable Stainless Steel Angles,Stainless Steel U Channel then call Ambani Metals today on +91-9820302423
Stainless Steel Angles Exporters, Stainless Steel U Channels Suppliers in Mumbai, India :: Ambani Metals