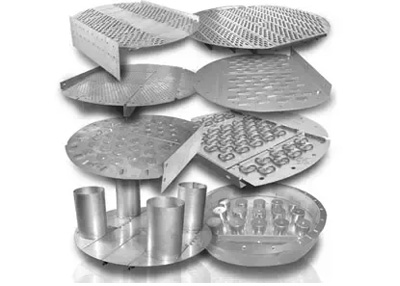 Ambani Metals is a leading manufacturer, supplier and exporter of Distillation Column, Distillation Trays
Sieve or Perforated Distillation Trays
Sieve trays are made from a flat perforated plate which allows the passage of vapor through the liquid. They are the most economical tray option when low turndown is required. They have better anti-fouling characteristics and lower pressure drop than a valve or bubble cap trays. Perforations are typically 1/2" in diameter, but Ambani Metals can provide designs with smaller hole sizes.
Distillation Valve Trays
Ambani Metals valve trays have better turndown and slightly higher efficiency than sieve trays. Ambani Metals offers different valve selections including fixed valves, floating valves and combination valves. Valve trays cost more than sieve trays, but are more economical than bubble cap trays.
One Piece Valve
This is the most commonly used valve. This design features integral legs for tray decks up to 1/4" thickness. Anti-stick dimples are standard. Other options include heavy/light valve combination, flush designs and non-rotating tabs in the tray deck.
3 Piece Valve
This valve consists of a light weight orifice plate, a valve, and a restraining cage. This design is recommended for higher turndowns.
Fixed Valve
This valve is integral with the tray deck. This is the preferred option for fouling conditions. However, it provides lower turndown and less efficiency than floating valves.
One Piece Rectangular Valve
Ambani Metals offers rectangular valves, caged valves, and also venturi type openings to provide lower pressure drop.
Bubble Cap Distillation Trays
Bubble cap trays are best suited for applications with low liquid flows and/or high turndown ratios. In terms of capacity, however, they are slightly lower than a valve or sieve trays. They are also the most expensive tray option.
Dual Flow Distillation Trays
Dual flow trays are sieve trays that do not have downcomers. The term dual flow comes from the countercurrent flow of the vapor and liquid through the perforations. Typical perforation sizes range between 1/2" and 1" in diameter. Dual flow trays best suit systems containing a moderate to high solids content or polymerizable compounds. High open area dual flow trays have a higher capacity and lower pressure drop than comparably spaced fractionation trays. However, their primary drawback is their narrow operating range. Most often, they are efficient when used in smaller tower diameters. Dual flow trays are also sensitive to levelness and may be subject to gross liquid and vapor flow partitioning through the deck if not level.
Baffle Distillation Trays
Because of their open design, baffle trays are used in applications requiring high capacity, fouling resistance and low pressure drop. Vapor-liquid contacting takes place when the vapor passes through a curtain of liquid falling between trays, or through rivulets of liquid flowing through tray deck perforations. Tray decks may be level or slightly inclined and typically occupy 40-60% of the tower cross-sectional area. "Disk and donut" trays have circular baffles and are a popular variant of this deign.
Baffle trays are well suited for heat transfer applications including heavy oil refining and petrochemical oil refining and petrochemical heat transfer services with high solids or petroleum coke content.
High Strength Distillation Trays
For applications with potentially damaging uplift surges, Ambani Metals can equip trays with special heavy duty features. These include special fasteners, increased tray thickness or additional support beams. Depending upon specific operating criteria, design adjustments can be made to take into account parameters such as corrosion, temperature, vibration and pressure surges. Contact your Ambani Metals separation specialist for design assistance.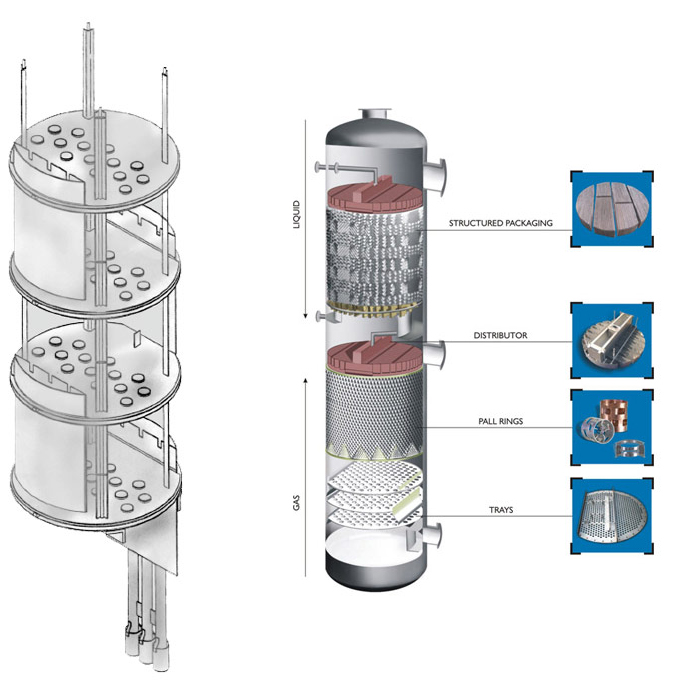 Additional Tray Design Options
For special customer requirements and/or performance, Ambani Metals Separation Products, Inc. offers numerous tray performance enhancing features. Some of the most common features offered by Ambani Metals include:
Cartridge Trays – Suitable for small diameter body flanges. Can provide up to 5 trays per cartridge. Different sealing options are available.
Anti-Jump Downcomer Baffles – To prevent liquids flowing across the tray from jumping over the downcomer onto the opposing flow path. Anti-Jump Downcomer Baffles are standard for multi-pass trays with center and off-center downcomers.
Picket-Fence Weirs – These are used to decrease the effective weir height. This is for low liquid flows, and using this option will help increase the effective liquid height and prevent blowing.
Splash Baffles – For low liquid rate services, Splash Baffles serve to maximize the liquid retention time on the trays. They can be used in place of, or in conjunction with, picket fence weirs. Splash baffles are located adjacent and parallel to the outlet weir. They clear the tray deck and outlet by 1/2" to 1" forcing the exiting liquid to flow under the baffle before it flows over the top of the outlet weir.
Swept-Back Weirs – To reduce the effective liquid height on the tray by lowering the volume of liquid per unit length flowing over the outlet weir. This option should be considered for high liquid flow rates.
Swept-Back Weirs - are used on side downcomers. They can also be used to balance weir loads between side and off-center downcomers in multi-pass tray designs.
Sloped Downcomers with Recessed Inlet Sumps – Suitable for heavy liquid loads that could otherwise cause downcomer flooding.
Distillation column and tray is extensively used in the chemical process industries where large quantities of liquids have to be distilled. These are used to separate mixtures of various liquids at different temperatures. We are most trusted and reliable manufacturer and supplier of highly efficient distillation columns and trays in India.
Features :
Durable
Easy to use
High capacity
Bubble caps are used in following Applications :
Oil and Gas industry
Agro chemical Industry